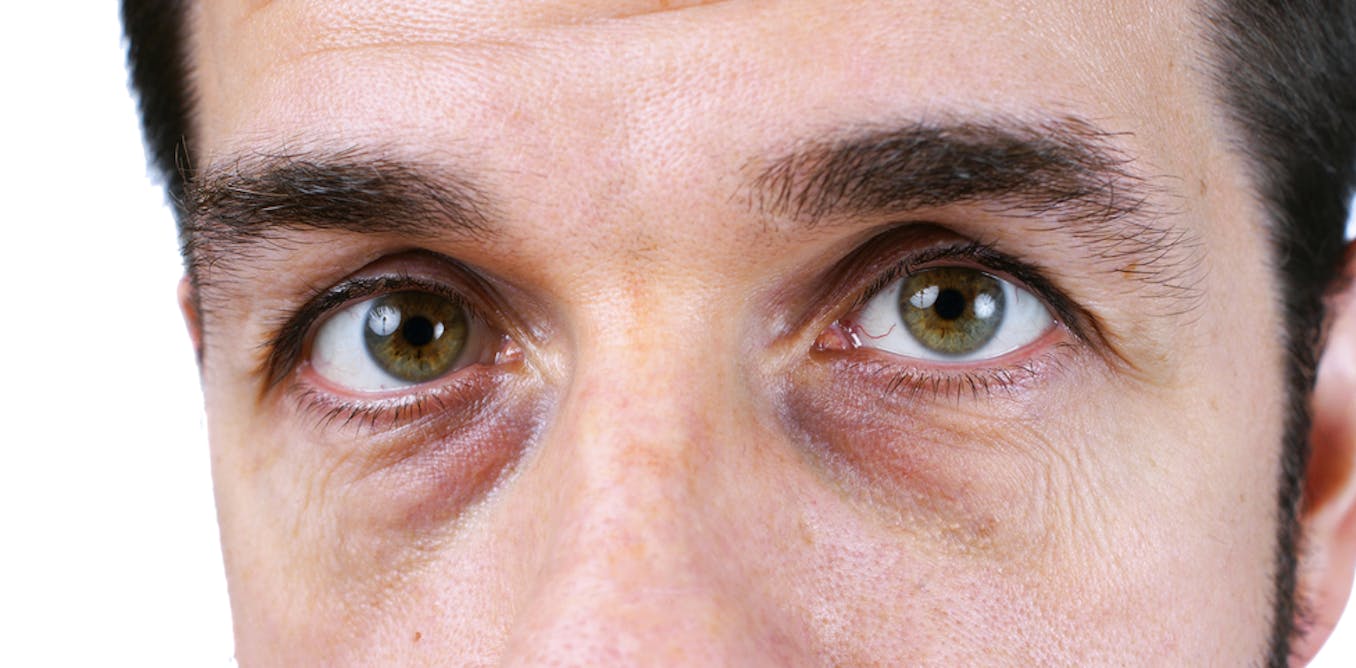 This is an article from I've Always Wondered, a series where readers send in questions they'd like an expert to answer. Send your question to alwayswondered@theconversation.edu.au
I've always wondered why we get dark circles under our eyes, and whether anything can be done about them – Fran, 34, Melbourne
Thanks for the question Fran, it's a common one. Many people have an appearance of dark circles on the lower eyelids, and they have many different causes.
Dark rings under the eyes are worsened by general fatigue, especially lack of sleep. The daily fluctuation is due to swelling of the skin, leading to a change in light diffusion, which looks like increased darkness of the skin.
For some people, all we can say is that their parents had dark circles under their eyes and therefore they do too. This trait can run in families, and is more pronounced in certain ethnic groups.
Sun exposure can also create dark circles under the eyes, by increasing the melanin content. The skin in this region can pigment more than the surrounding skin because it's more sensitive.
Because the skin is thinnest under the eyes, the blood vessels here will be closer to the surface, meaning they look darker. As we age, our skin gets thinner and we lose collagen (the main structural protein in skin) and elastin (a highly elastic protein in connective tissue), which is why we get wrinkles. This often makes the blood vessels (which are dark in colour) under our eyes stand out more.
The tear trough (the depression below the eye) also deepens with age because of movement of fat under the eye forwards, creating shadowing below it.
It's likely blood vessels under our eyes will become more visible as we age.
from www.shutterstock.com
The dark circles could also be a mere shadow from tired, puffy eyelids, or just from the anatomical shape of someone's eye sockets: some are hollowed more than others.
People with this appearance could be suffering from a skin condition of the eyelid skin such as eczema or allergic contact dermatitis. Inflammation from dry and sore skin, and also rubbing, cause melanin production.
Some people may not always have dark circles, but may have been rubbing their eyes from fatigue or itchiness caused by hayfever. In these cases, the dark rings will simply go away after a while.
Can dark circles under the eyes be treated?
Darker skin under the eyes is a perfectly normal and natural appearance. But if it bothers you, there are a few options. Treatment will depend on what causes the dark circles, and these causes need to be addressed. In some cases, only an improvement may be possible.
Removing the cause of inflammation of the eyelids will stop the melanin factory from overproducing. Then a fading cream can be used to reduce the colour. Be careful to use a cream without hydroquinone, which is a bleach that can harm our skin if used for too long, as it will be necessary to treat for a very long time.
Ideally a fading cream would contain licorice root extract, as there is some evidence this inhibits the melanin factory in the cells without causing toxicity to the cells. Uva-Ursi plant leaf extract and a type of nanopeptide (Nanopeptide-1) are also commonly used. But while we know they are safe to use their effectiveness hasn't been tested.
* Email your question to alwayswondered@theconversation.edu.au

* Tell us on Twitter by tagging @ConversationEDU with the hashtag #alwayswondered, or

* Tell us on Facebook