There's a person inside me who survived all-nighters during finals, late nights with my girlfriends, early spin classes, and a life that contained not a single nap… and I barely even drank coffee. So tell me why, now, at the ripe age of 25, I can't seem to function unless I've nodded off by 10 p.m. sharp. If I didn't know how to use concealer before, let's just say I started drowning myself in the stuff.
If you ever have a conversation with me, you'll hear a few standard lines: I love the Jonas Brothers, beauty is everything to me, and I naturally wake up around 6 a.m. most days. My body's internal clock refuses to sleep past 6:30 a.m., whether I've gone to sleep at 9 or 3 a.m. This leads to many mornings that my face looks… well, haggard, to put it lightly. However, I refuse to bring that negative energy into Zoom meetings or on my morning coffee runs, so I had to come up with a system to make myself look like I got double the amount of sleep I actually received. Here's my secret weapon, and it's all about my concealer routine (which, in case you were wondering, is *only* four steps):
Always start with an eye cream
I never realized how important this step was until I consistently put it into practice. I thought that if I didn't have dry under eyes, eye cream would just make my concealer and powder crease like a mofo. Oh, the contrary. Good-for-you ingredients like caffeine and peptides plump up the eyes and help reduce darkness over time that will require less concealer as time goes on (no matter how much sleep you get—score!). Plus, hydrated eyes make the product go on so much smoother, so you can spend less time blending and more time sleeping. 
When I apply my eye cream, I'll always do a light massage around my eyes with my ring fingers to spread the product around and wake up my eyes. While my under eye bags are hereditary, the puffiness can be dissolved with a few quick strokes (or even better, an ice roller). 
Wonderskin
Purevoc All Day Glow Multi-Corrective Eye Cream
When I want a major boost of hydration or want to give myself a short depuffing massage, I opt for this eye cream. It's thick and emollient on the skin, but it never clogs my pores or makes my eyes greasy. I use it nearly every morning for smooth, prepped under eyes.
The Inkey List
Caffeine Eye Cream
For those with normal to oily eyes that just want a boost of caffeine and peptides in their under eye routine, this lightweight option has hundreds of five-star reviews on Sephora.
Use a liquid luminizer under the eyes 
I used to think using a dewy product under the eyes would them crease and all the product would gather in fine lines. Instead, this is the secret sauce to getting rid of dark circles and making my eyes look bright—without the dreaded triangle of super light concealer. Heck, some days, I do this and don't even wear concealer. An illuminating product with a sheer coverage is the first step of covering up the darkness, but its real power is reflecting light. Because darkness is often a shadow under your eyes, we want that area to look bright and open. A dewy product like this reflects light, inadvertently disguising and diminishing dark circles. It's truly magic.
I use a skin-tone luminizer without shimmer or glitter just where the darkness is (usually in the inner and outer corner of my eyes). I apply it with a concealer brush and blend it out with a sponge or my finger. You can immediately tell a difference in my eyes without any cakiness. 
Charlotte Tilbury
Hollywood Flawless Filter
Hollywood Flawless Filter is one of those cult-classic products that just about everyone should have on their vanity. It has so many uses: concealer, foundation, highlighter, primer—the list goes on. Under the eyes, it's a genius product that covers and brightens without making you look like an oil slick or adding noticeable glitter.
Sigma
Concealer Brush
You'll want a domed, synthetic concealer brush to apply product to the under eyes to avoid adding too much or getting it in the areas you don't want it (like the sides of your nose).
Beauty Blender
Original Sponge
Nothing works like an original Beauty Blender, especially for blending out anything under the eyes.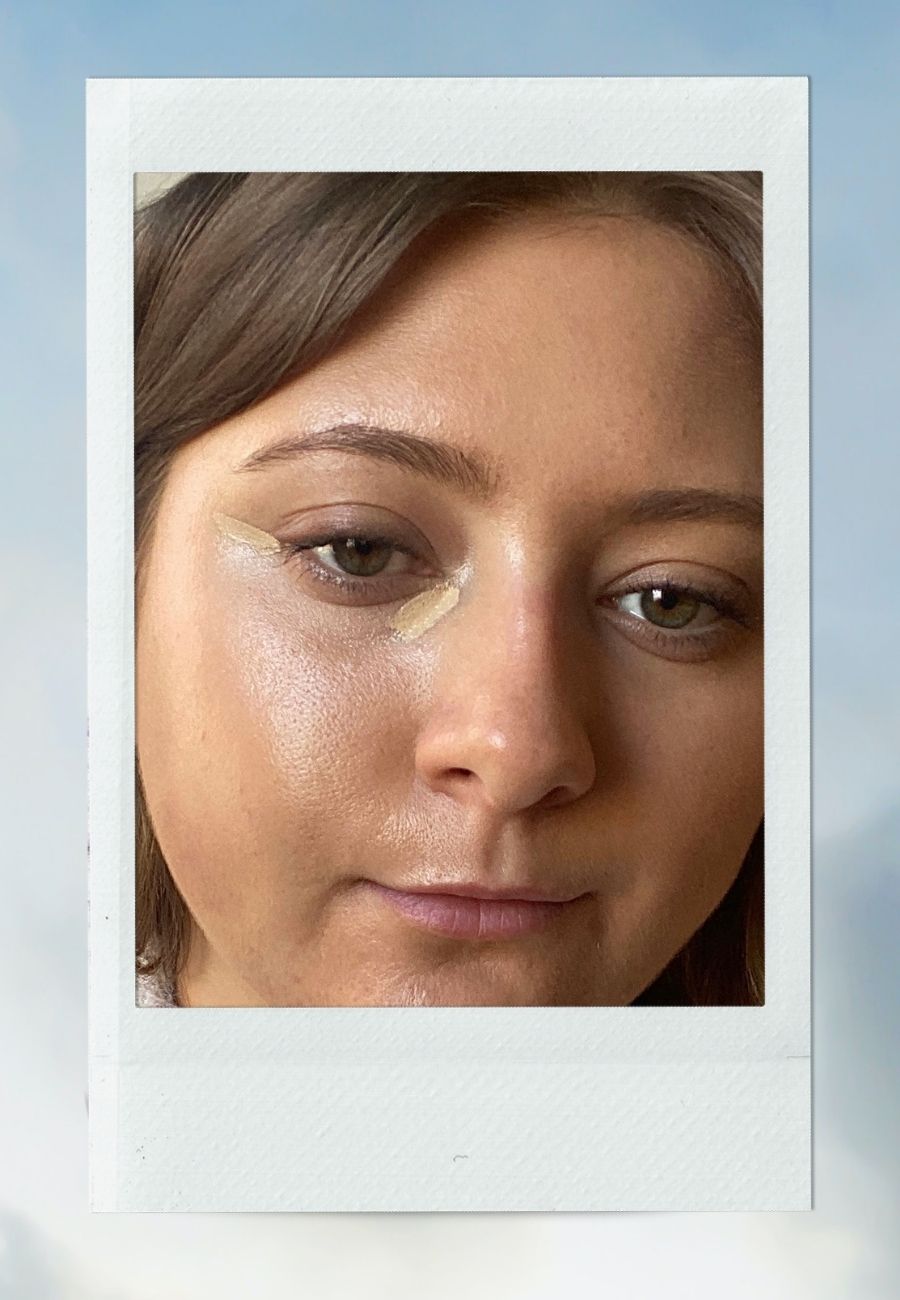 Apply concealer to just the inner and outer corner 
When my eyes are particularly dark and droopy, concealer is a must. But I avoid applying it in a massive triangle like it's 2016 all over again. If you're on makeup TikTok, you've definitely seen this viral trend of applying concealer just to the inner and outer corner to lift the eyes and use as little makeup as possible. Or if you've wondered how people get their under eyes to look so bright without getting cakey, this is exactly it. 
I'll use the doe-foot of whatever concealer I'm using to apply it to the area, and I blend it out with a sponge. For me, a sponge always gets rid of any streaky lines and looks natural, but you could use a brush if you wanted more coverage. The key to this trick is avoiding the center of the eye where the product tends to bunch up and crease or get heavy-looking. Whatever is leftover on the brush or sponge can be dabbed there, but focus all of your coverage right on the areas that actually need the brightness. Trust me: You won't miss the triangle. 
NARS
Radiant Creamy Concealer
The reigning champ of concealers, NARS Radiant Creamy glides on and smoothes out like butter under your eyes, leaving behind nothing but bright, awake eyes. You'll never get cakey or dry, and you have to use the tiniest bit to get the coverage you desire.
The Ordinary
Concealer
You don't always want a creamy, dewy concealer, especially if you have oily skin. This affordable option brightens under eyes and leaves a natural finish that stays put all day long.
Tap on powder only where I need it
As a final step to make sure my concealer lasts through all of my meetings, my mid-day phone scroll, and the 2 p.m. power-nap I need to get through the day, I'll apply a little powder to set everything in place. Remember: We use a dewy product to reflect the light, so if you go in with a heavy matte powder, that step is essentially rendered useless. To keep my eyes radiant and bright, I use a very finely-milled powder that keeps all the glow but makes sure my makeup doesn't budge. 
Kosas
Cloud Set Setting Powder
This powder is practically the antithesis of powder. If you're used to dry, heavy, cakey powders that do more harm than good, let me introduce you to her. Instead of that, you get a smooth, radiant appearance that practically looks no different than before you put the powder on… but I guarantee you'll notice the difference in how long your makeup lasts.
Beauty Bakerie
Flour Setting Powder
While this powder was made with every skin type in mind, it's ideal for those with oily skin who still want their glow to peak through without the extra grease and shine. Plus, it blurs pores like no other.
Real Techniques
Setting Brush
This brush is genius for setting the face because it's small and dense enough to pack on powder, but the fluffiness makes it so easy to diffuse any edges and blend powder right into the rest of your makeup.
10 Hacks to Achieving the 'No Makeup' Makeup Look