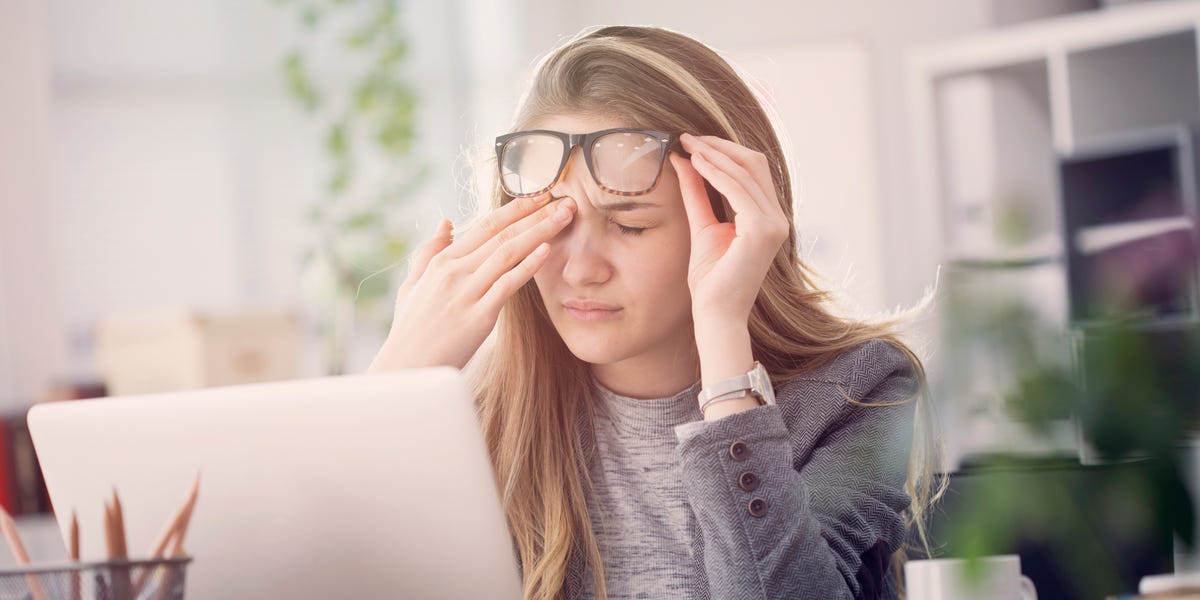 Crows feet and laugh lines are signs of a life well-lived, a map of your history. You certainly shouldn't be ashamed of them, but that doesn't mean you want them to be the focal points of your entire face. You can't banish under eye wrinkles forever from the comfort of your own bathroom, despite what the expensive tube of eye cream in your medicine cabinet wants you to believe. But there's plenty you can do to perk up those baby blues (or browns, or greens…).
Understand why they form
"Wrinkles, including under eye wrinkles, are a part of the aging process and occur as there is a loss of collagen and elastin [in the skin]," says Dr. Sejal Shah, NYC Cosmetic Dermatologist and founder of SmarterSkin Dermatology. "Unless you vow never to move your face or step out into the sunlight again, you're bound to get some wrinkles, but Dr. Shah notes certain habits such as smoking, repetitive squinting, rubbing your eyes, or sleeping on your stomach can make them worse.
Invest in a good eye cream
We know — we just said your eye cream can't do it all. That doesn't mean a solid formula can't work wonders on your fatigued eyes. Dr. Shah notes that, "sunscreen, retinoids, antioxidants, peptides and growth factors are ingredients that can prevent or reduce [wrinkles]," so look out for an eye cream that includes one or more. She recommends La Roche-Posay Redermic R Eyes ($47, dermstore.com), which has all the anti-aging benefits of retinol, couched in a hydrating hyaluronic acid base that won't irritate the delicate skin around your eyes.
Not ready for retinol? In general, keeping the area moisturized can have an affect as well, although it won't be as long-lasting. Dr. Shah suggests hyaluronic acid, which "can temporarily plump the skin so [fine lines and wrinkles] are less noticeable." Neutrogena HydroBoost Gel-Cream Eye ($15, amazon.com) is a simple yet effective hyaluronic acid-based eye gel that instantly plumps the under-eye and won't disturb your concealer with its lightweight texture.
Look into a procedure
There are longer-term solutions to the problem of under eye wrinkles, and they involve varying degrees of commitment and discomfort. "Laser treatments, radiofrequency microneedling, and injectables such as Botox and fillers can be helpful," says Dr. Shah. Before you commit to a procedure or treatment, make sure you understand the differences: laser treatments, for example are non-invasive, while Botox and fillers require the injection of needles into the skin.
Embrace a quick fix
If your eyes look especially worn down and you want to perk them up quickly, pop on an eye mask. Dr. Shah recommends the Wander Beauty Baggage Claim Gold Eye Masks ($25, sephora.com), with its hydrating formula packed with jojoba seed, lavender oil, and Shea butter. Bonus: they're wrapped in gold foil for a real Old Hollywood glam touch. She also suggests patting some primer under your eyes before you get ready to go out. This "can be helpful to fill in the lines and make makeup application smoother." She recommends Wander Beauty Rise and Prime Balm and Primer Duo ($39, sephora.com). On a budget? E.L.F. Cosmetics Hydrating Under Eye Primer ($3, amazon.com) is an extremely inexpensive option with an impressive formula containing vitamins C and E, Shea butter, and aloe to soothe irritation.