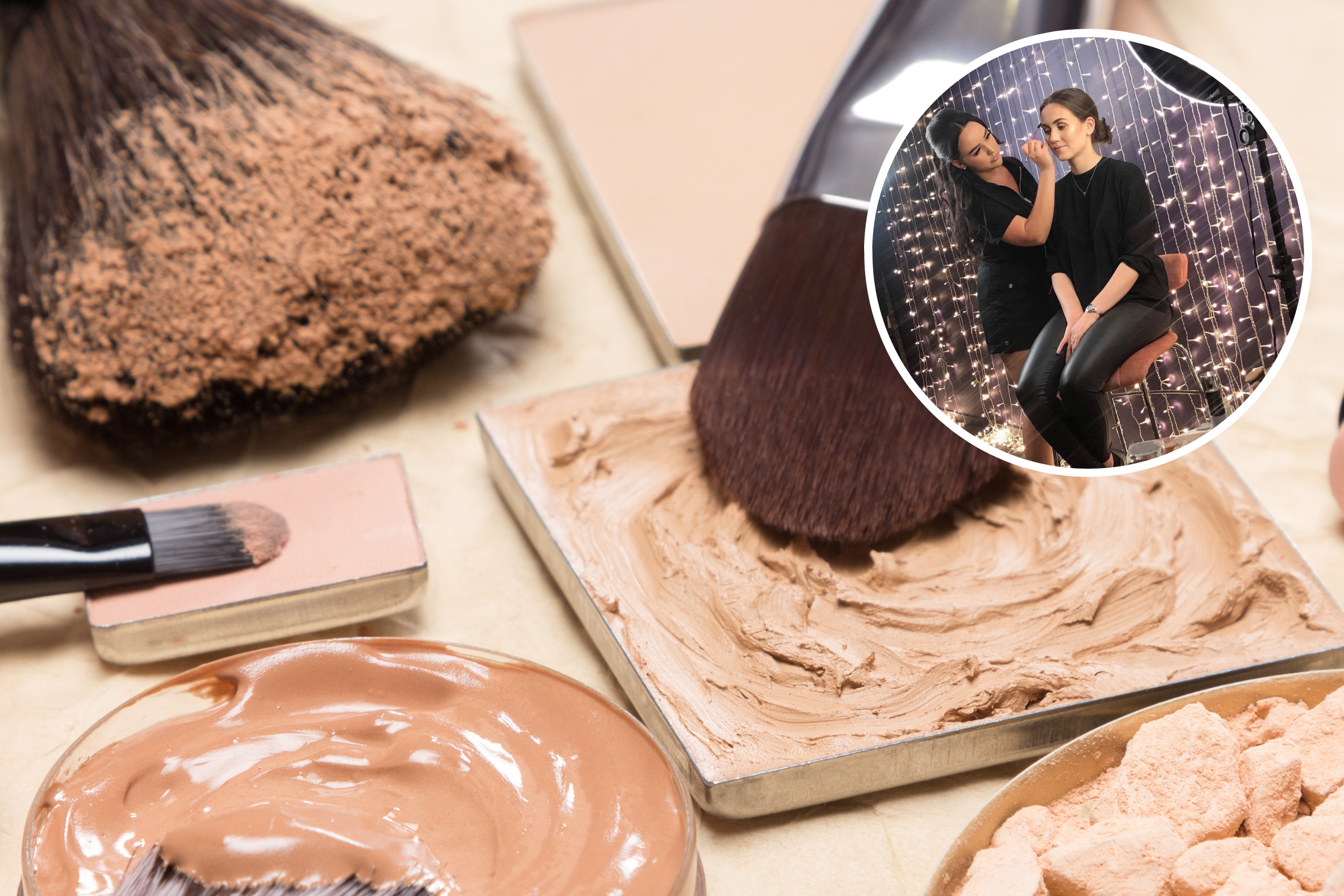 I have always been interested in make-up. My first real experience using cosmetics was on a family vacation to a Spanish island when I was around fourteen. I have very dark brunette hair, but my eyebrows went bleach blonde in the sun. So, I made my mom take me to a local make-up counter where I bought my first eyebrow pencil.
My love of cosmetics took off from there. I went home and started experimenting with various different products. I always wore make-up to school, even though I wasn't allowed.
As an adult, I pursued a career as a make-up artist. My speciality was bridal cosmetics; I did some other events, but my niche was weddings. I worked with brides, bridesmaids, and family members of various ages to create their make-up looks.
Make-up artist Zoe Trigwell shared her advice on reducing the appearance of under-eye wrinkles.
Zoe Trigwell/Getty Images
Starting a celebrity-loved make-up brand
Prior to the first U.K. COVID-19 lockdown in March 2020 I was self-employed, but during the pandemic I was unable to work. I thought: "What can I do with myself now? Where can I put my energy?" I had already started and dissolved a beauty brand in 2016, but because I had time to really focus on the business, I decided to try again.
I started my beauty brand in May 2020 by purchasing 500 pairs of false eyelashes. I began promoting the company on social media and in the last six months it's really taken off. We're selling around 1,000 products per day now, which is beyond what I could have dreamed of.
I have even seen some celebrities with make-up looks created using our cosmetics, including Jennifer Hudson. I am a huge fan of hers, so it was absolutely incredible and a bit surreal to see her make-up artist using my products.
Reducing the appearance of under-eye wrinkles
I always approach wrinkles and fine lines with a less is more attitude, especially when I'm working with mature skin. Regardless of age, the skin underneath the eye is thinner and more sensitive than other parts of the face, so I find that if you try to put too much product there, it emphasizes any fine lines and creases massively.
When you're doing your make-up, whether you put foundation on before or after concealer, I would encourage not applying any foundation underneath the eye or around the side of your eyes. In my experience, if you have any smile lines or under-eye creases, excessive product will likely accentuate them.
When I am doing face make-up, I make sure to hydrate the under-eye area. So, I use any moisturizer and primers first, then I go in with my foundation, but completely leave the areas around the eyes clear of any product.
Next, I will go in with a concealer. Whatever tool I have used to blend my foundation, whether it's a brush or a sponge, I would use that same tool to blend my concealer in. Using that same applicator means you'll pick up a little bit of that foundation color and it will merge together nicely; it won't look like two completely separate products.
If you feel you need more concealer to cover up certain lines or creases, then build up coverage in really thin layers. In regards to different skin colors, I would still use the same technique, just change the tone of the products.
If someone has darker under-eyes, I would always use an eye cream first. I believe an eye cream is essential to reduce the appearance of heavy circles. It tends to brighten the area, and then you can go over that area really lightly with a concealer.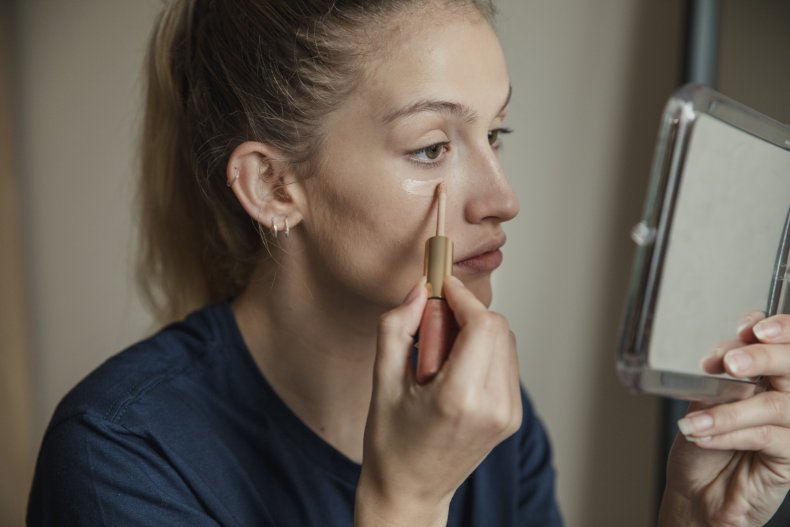 According to Zoe, less is more when it comes to applying concealer. Stock image.
iStock / Getty Images Plus/Getty Images
How to apply product to under-eye areas
Especially with more mature clients, if there are any fine lines or wrinkles, you need to be really delicate with how you're applying the make-up. I find that very important. For example, I wouldn't be as rough pushing powder in.
When it comes to which tool you use to apply and blend your concealer, I believe it's all down to personal preference. I wouldn't say there is one method that is always better than another.
My preference is to apply the product with a brush, then use a damp sponge to press the concealer in. Then, while that product is still wet and sitting on the skin, go in with a powder puff and a loose powder to set the concealer.
Some people like to use their fingertips because it warms the product up a little bit more. With more mature skin this method could work well, because it may disperse the product a little bit more evenly than a brush.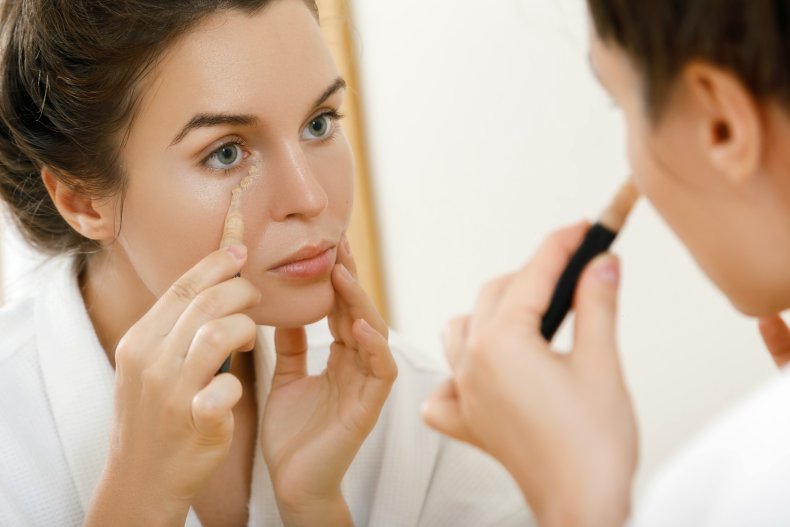 Zoe advised always checking the ingredients before purchasing a concealer. Stock image.
iStock / Getty Images Plus/Getty Images
Choosing the best product
It's essential to ensure that the entire face, especially underneath the eye, is really hydrated before applying any make-up. I would always recommend looking for a concealer that includes hydrating ingredients like vitamin E or glycerin.
I suggest choosing a concealer with a thinner consistency. Personally, I recommend trying out testers of the product in store before buying it, so you can check whether it seems too thick.
In my opinion, you don't always need color correctors. Most concealers nowadays are pretty good and can cover a multitude of things. I believe a small amount of a good concealer, with a decent amount of coverage, is always best.
You can find good under-eye products on a budget. If you're worried about a cheaper concealer settling into fine lines and creases under your eye, check the ingredients. As long as the product is hydrating it will be effective. Concealers with more of a serum base are great and can be purchased for a really reasonable amount.
In my view, you don't have to spend a fortune on products—make-up and beauty have come such a long way. As long as it has the right ingredients, any brand can be just as good as luxury products.
My personal choice of products to use on the under-eye area, before make-up application, would be the INKEY List's Hyaluronic Acid Serum as a moisturiser followed by the Hydrating Face Primer by e.l.f. Cosmetics.
My favourite concealer is NYX's Bare With Me Concealer Serum, while my preferred powder is the RCMA No-Colour Powder. My choice of setting spray would be Morphe's Continuous Setting Mist and would use the Velvet Powder Puff, by Trigwell Cosmetics to set my make-up.
Setting your make-up to reduce under-eye wrinkles
When setting the areas around your eyes with powder, I would always recommend using a puff over a brush. I believe less product needs to be used with a powder puff and that the concealer does not sit into the fine lines as much as it would if you used a brush.
If you're looking to achieve a dewy, shiny look overall, I still recommend setting those under-eye areas with powder. Use a little bit more powder than you would on the rest of the face. If you don't set the product with any powder, the concealer will just settle into any fine lines or wrinkles.
But if you want that dewy, fresh look on the rest of the face, then only use small amounts of powder everywhere else. How much powder you use depends on your skin type.
If you have oily skin, you may want to set your whole face with powder, because oils will naturally emerge through your make-up throughout the day. If you have more of a dry skin tone, don't set your face, keep it without any powder and use a small amount of a light setting spray. You can buy setting sprays that are specially designed to keep make-up in place but also give you that dewy fresh look.
Zoe Trigwell, 28, is a make-up artist based in Cwmbran in South Wales. She is the founder of Trigwell Cosmetics. You can follow her Instagram at @zoetrigwell or visit their website here.
All views expressed in this article are the author's own.
As told Newsweek associate editor, Monica Greep.