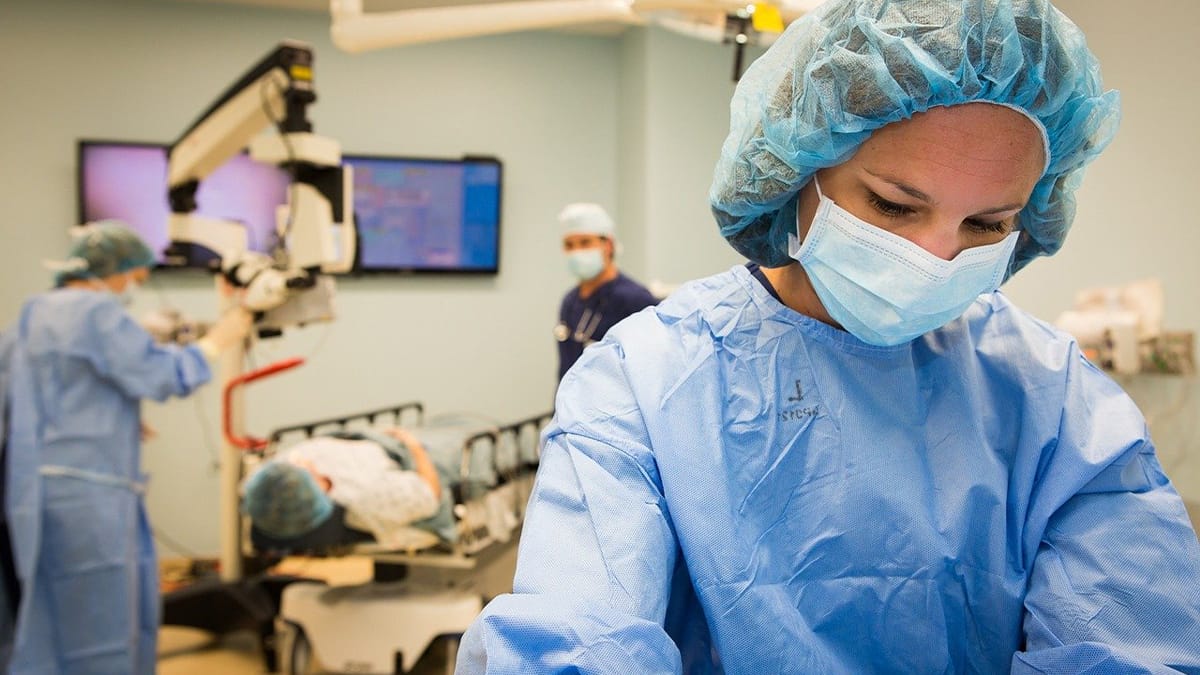 Can dark circles under the eyes return after Blepharoplasty? We will give you the answer and more benefits of this procedure in this article. Blepharoplasty is one of the essential cosmetic facial operations for enhancing eye region appearance. Most people are looking for blepharoplasty surgery to make their eyes seem less fatigued or to improve their symmetry. It is essential to know what to expect after the procedure and can make the process less overwhelming.
Blepharoplasty can definitely remove dark circles under the eyes. However, it can still return after a successful surgery. It depends whether dark circles under your eyes are natural on your genes, or how you take care of yourself after the surgery. You must follow the tips and advice from the doctor to ensure complete healing.
What is Blepharoplasty?
Blepharoplasty is a type of surgery that repairs droopy eyelids, eliminating dark circles under the eyes, and fat removal. Your eyelids stretch as you age, and the muscles that support them weaken. As a consequence, excess fat can accumulate below and above your eyelids, causing the eyebrows to sag, droopy the upper lids and bags under your eyes. Moreover, it aging is also a culprit behind those dark circles under the eyes.
Besides making you look older, these situations can also reduce your side vision, especially the upper and outer aspects of your field.
Blepharoplasty can reduce or eliminate these problems with the skin around your eyes. As a result, it will make your eyes look younger and more alert. For example, if droopy or sagging eyelids prevent your eyes from opening entirely, or pull down your lower eyelids, you can suggest Blepharoplasty. On the other hand, if you think dark circle under the eyes make you look so old, Blepharoplasty can also be a solution.
Aside from removing dark circles under the eyes, it is also beneficial for eliminating excess tissue from the upper eyelids can make your vision better. Blepharoplasty in the upper and lower lids can make your eyes look younger and more attentive. Its purpose includes the functional restoration of affected eyelids and aesthetic restoration of the facial orbital and periorbital regions.
How To Prepare For Blepharoplasty?
You have to speak with a plastic surgeon or an ophthalmologist to discuss your medical history before you schedule a blepharoplasty. Your surgeon will ask questions about past and current surgeries, such as dry eyes, glaucoma, allergies, circulatory problems, thyroid, and diabetes issues. Your doctor will also ask about your drug use, vitamins, herbal supplements, alcohol, tobacco, and drugs.
A straightforward discussion of your expectations and surgical motivation will help set the stage for a satisfactory outcome. Your doctor will also tell whether the procedure will likely work well for you. Before your eyelid surgery, you'll undergo these several stages.
A physical checkup. Your surgeon will perform different physical exams, which may include testing your production of tears and measuring parts of your eyelid.
A Vision Review. Your eye doctor will examine your eyes, including your peripheral vision, and test your vision.
Photography with the Eyelid. It photographs your eyes from different angles. These photos help plan the operation, assess its immediate and long-term effects, and support an insurance claim.
Your surgeon or ophthalmologist will ask you to stop taking different medicines like aspirin, ibuprofen, naproxen, and any other herbal supplement that causes increased bleeding. Make sure to ask your doctor if you also have to stop drinking other medicines that you're currently drinking. More importantly, quit smoking several weeks before the day of your surgery. It is because smoking can reduce your ability to heal faster.
How Long Does Blepharoplasty Last?
Blepharoplasty is the actual process that lasts a day, but the preparation before it and the healing process may take days and weeks. After surgery, you spend time in a recuperation room, where your doctors will monitor your situation. You can leave to recuperate at home later that day. You can briefly encounter the following after-effects after the operation.
Vision blurred from the lubricating ointment applied to the eyes.
Watery Eyes
High-sensitivity to light
Double vision
Puffy and numb eyelids
Swelling and bruise similar to black eyes
Pain or malaise under or around the eyes
Remedy Blepharoplasty Surgery
After the surgery for your dark circles under the eyes, you will definitely feel the effects of Blepharoplasty. It might be difficult and painful at first, but it's worth every stitch. After the surgery, your surgeon will ask you these steps.
Using ice packs on the eyes, the night of operation for 10 minutes every hour. Using ice packs through the day on the eyes four or five days the following day.
Clean your eyelids gently, and use prescribed eye drops or other ointments.
Don't do the heavy lifting and swimming. Moreover, avoid any strenuous activities.
Do not use cigarettes.
Avoid eye rubbing.
If you are using contact lenses, don't bring them on the following surgery for another two weeks.
Wear darkly tinted shades to shield the eyelid skin from sun and water.
Sleepover, a few days with your head, raised higher than your chest.
Use cold compresses to reduce back on swelling.
Go to the doctor's office in a couple of days to get stitches out, if necessary.
Blepharoplasty Recovery – Post-Surgery
It may seem a little scary, but the first thing you notice when you wake up from blepharoplasty surgery is that your vision is blurry. It may not mean that the operation was ineffective, but merely attributable to a dense antibiotic ointment that is added to the skin of the eye to protect the surface from drying. You can use it to heal the wounds for one week.
Is Blepharoplasty Safe?
For as long as you follow your doctor's advice, Blepharoplasty is definitely safe. Moreover, tell your physician right away if you have any underlying conditions. Many people are expressing satisfaction with blepharoplasty results, such as a more relaxed and youthful appearance and more confidence in self. For some people, surgical outcomes can last a lifetime. Others may recur to droopy eyelids.
If you feel any discomfort from bruising and swelling, it should subside within 10 to 14 days. On the other hand, scars from surgical cuts may take months before it goes away completely. Beware of shielding the fragile eyelid skin from too much damage to the light.
Frequently Asked Questions
Let us answer some of the most frequently asked questions about Blepharoplasty.
Will I have permanent scarring?
Incisions will often create a kind of mark, but the operation in location and form depends on how severe this scarring is. Luckily, the eyelids are one of the quickest areas to repair, leaving very few scarring. Lower eyelid scars are generally concealed and scarcely visible by mascara, while upper eyelid scars are carefully covered by skin creases, especially while the eyes are open.
Any scarring is typically small, and will only be a few millimeters long. But in the crow's feet region, they may be a little more visible. All in all, however, blepharoplasty scarring is not a problem and is one of the least noticeable forms of cosmetic facial surgery.
Will I need more surgery later?
Aging will still occur whether we like it or not, and although blepharoplasty results last for many years, the eyelids will always be drooping and bulging as time goes on. It is not that the project was ineffective. Like for several beauty treatments, it can require more than one operation to produce the 'individual's ideal' outcome.
Patients who want to enhance the outcome of their first operation may perform a blepharoplasty plus, which is the additional cosmetic procedures that can be delivered to boost the primary outcome. Some patients appear to undergo regular surgery, called blepharoplasty reconstruction. It promotes scarring to correct serious eyelid malposition and dark circles under the eyes.
Can I wash my face after Blepharoplasty?
You can never wash your face right away after Blepharoplasty. In the first or second days after Blepharoplasty, you can take a bath, but you have to make sure that you keep your face dry. If you want to wash your hair, do it on the sink and ask help from someone else. Once there are splashed amounts of water on the face, there may be some problem with the wounds with prolonged exposure to moisture.
Within three to seven days, you can start washing your face gently with water and soap. Then, dry it with a towel and pat it slightly. Never rub it on your face. After a week, your doctor will remove the sutures. Then you can already do regular washing. Two weeks after the surgery, your life should get back to normal.
Conclusion
If you have dark circles under the eyes, Blepharoplasty can be your last resort. However, take note that it would cost you money. The operation result is the same with everyone, but the success rate is always higher than not. Always be honest with your doctor about your current condition, if you have any. Finally, after the procedure, do everything that you can to heal all wounds. More importantly, take care of yourself so that dark circles under the eyes won't come back again.